October 2015 Artist Features: ISABEL CUENCA & MATT MANALO
Isabel Cuenca and Matt Manalo were born and raised in the Philippines, but grew up in the United States. This has influenced their work through the desire of constructing compositions that depict the nuances of religion and culture within the two communities. By examining their experiences and memories, they explore the overlap, which creates a hybrid of two worlds.
Janna Añonuevo Langholz: I'd like to begin a little differently by asking you both to introduce each other's work. Isabel, would you tell me a little bit about Matt and his work? Matt, would you tell me a little about Isabel and her work?
Isabel Cuenca: Matt's work is, I think, about the gesture of mark making – the mark made, the mark erased and finally the mark left behind. What is important about it is that it conveys learned and instinctive tendencies that cohabit within the work. For example seeing hints of calligraphy within a whitewashed painting speaks about his background – his history, his education, ethnicity, instincts, training, etc.
Matt Manalo: Isabel makes medium to large, non-representational, hard-edged paintings on canvas. She mainly works in acrylic paint and applies them in many layers of monochromatic and sometimes contrasting colors. Her paintings are very geometric and it gives you a sense of architecture. They give you a sense of space where it allows you to have a feeling of belonging but at the same time, you are hindered by lines. Her paintings allow the viewer have an open dialogue between the familiarity and vagueness of the structures which of a place/places they have been to or seen in any type of media.
Above: (left) Matt Manalo, "Still Slaves for $20 Million", mixed media on panel, 24 x 18 in. (right) Isabel Cuenca, 2014, "Untitled (Mountain View)", acrylic on canvas, 36 x 24 in.
JAL: You were both born in the Philippines but later came to the United States. How does being a part of two cultures come into your work?
MM: I was born and raised in Manila. I left when I was eighteen years old. For me, it was not much of a culture shock since the Philippines is a very westernized country. I do a lot of compare and contrast between the US and the Philippines. For most of my abstract work, I compare a lot of the grittiness of Manila to the cleanliness of most US cities I've been to. I also talk about topics that the Philippines borrowed from the US and I'm currently making a series about basketball.
IC: Having lived in two countries, thus cultures, almost defines you I think. Displacement is something very hard to ignore but it is a very interesting material to mine. There are things in our memories that want to remind us of what was and pushes to become a part of the now – they are as invaluable as opportunity. My work focuses on the environments, the composition of the home – home in all its aspects, the emotional, the physical, the spiritual. And the home is where two cultures clash, it is very personal and in a way defines us – there isn't a way of eradicating that from informing the piece.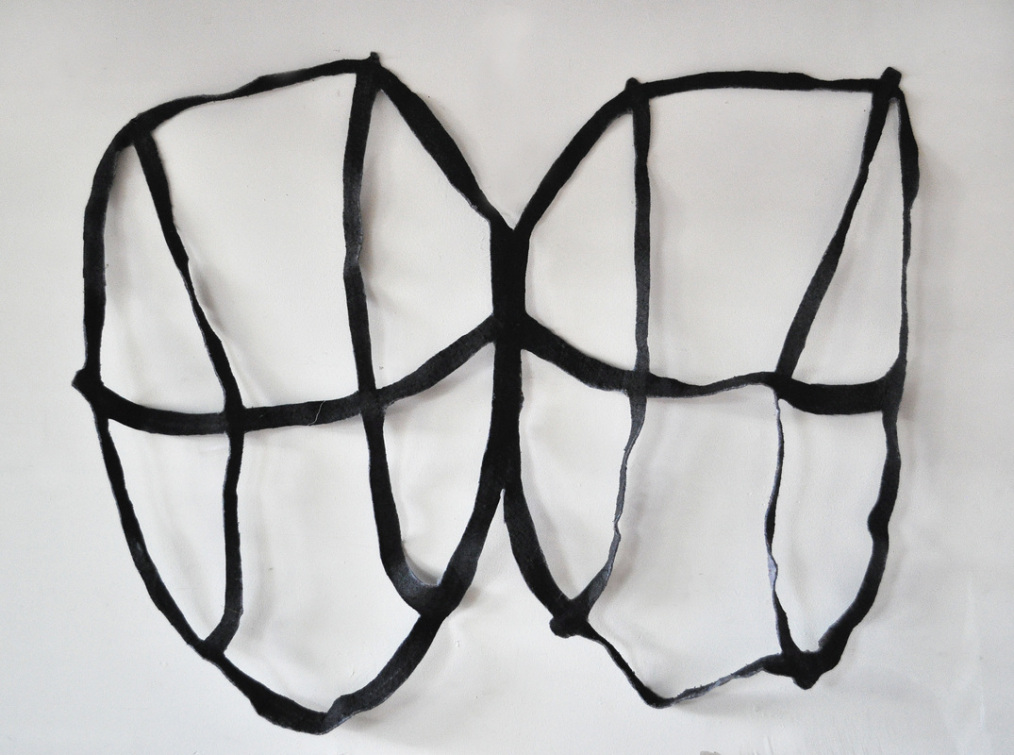 Above: Matt Manalo, "PBA/NBA (ghost)", mixed media on recycled denim
JAL: I'd like to ask you more about the title of the show, Bahay (house, or home in Tagalog). How do ideas of house/home come into your work and where is home for you?
MM: For Filipinos, home is something very important to us. It's more than just a structure that protects us from outside elements. It is a place where we can be ourselves. The idea of home or a sense of belonging comes through with my practice: making my work, being able to express myself, sharing my stories… Home.
IC: I think home hasn't had a singular definition for me. There isn't a formula to the home and so it is this ever-changing thing. Within the show Bahay, my focus was to visualize a space where two very different things fit and co-exist – architectural structures and abstraction along with light and shadow. I think on paper, home is here in the States, but in all other aspects… it's both places and there is no way of separating that.
Above: Isabel Cuenca, 2015, Untitled, acrylic on canvas, 48 x 48 in.
JAL: You have divergent practices, but are both primarily painters and similarities arise in looking at both of your works such as the repetition of an action (layering, folding, tiling, scratching, erasing). Can you tell me more about your process and how you worked together to create your exhibition?
IC: I think those similarities are what really drew me into Matt's work. I thought how great it was that we experienced growing up the same way yet the work is on opposite side of the abstract spectrum. Our work and our practice really what drove what the show was going to be about. Conceptually we are on the same wavelength. There's a lot of "that's exactly what I was thinking!!!" and yes to all those exclamation marks, so it really didn't take that much deliberation. We tend to come up with a game plan and just go. I think it really comes down to respecting each other's opinions and knowing that what the other is feeling about something is just as valid.
MM: Isabel and I were aware of our differences with aesthetic. Hers is cleaner and mine is more textured, grittier. We thought that it would be a nice contrast from two artists that talk about the same topic.
My studio practice involves a lot of collecting and repurposing. There is just something aesthetically pleasing to me about the rawness of materials. I am also a strong believer of wabi-sabi, the Japanese philosophy of finding beauty in imperfection.
Above: Isabel Cuenca and Matt Manalo, installation shot from Bahay, 2015
JAL: What are you inspired by visually? Do you look at the work of any other Filipino artists?
MM: I am inspired visually by almost anything. I am drawn to rusty metal, patinas, weathered and cracked paint on walls, moss, cracks, stains on cloth or paper, etc. I constantly look at contemporary works that are exhibited in Manila and some here in the U.S. This is where I find social media being very helpful.
IC: I am mostly inspired by storytelling – which really stems from watching animation, looking at photography, reading folklore and fiction. I drive around and photograph buildings – the colors of glass in relation to the sun – I love the tension of nature vs. man-made. I especially love buildings in construction, which is fortunate because Houston has a lot of that currently.
Looking is very important period and finding Filipino artists is extra exciting for Matt and me. There's a lot of "fan-girling" involved via text messages when we do find one we both like. We have big dreams of reaching out to the Philippine based artists; being involved with them some how; and sharing/providing opportunities.
JAL: If you could have a show anywhere in the world and in any space, where would it be?
IC: If I could show anywhere in the world, I would love to be represented in the Venice Biennale; and to represent the Philippines would just be such a privilege.
MM: I am a firm believer that not all art belongs inside the white cube. I'm thinking of Theo Jansen's kinetic sculptures or even the Spiral Jetty. These works just belong to their environment and I feel that having the artworks confined in a white, pristine space always gives off a snob appeal and fear towards some audience. Unless if that is really the intention. Referring back to the question, I really liked Kara Walker's show in an old sugar factory so anywhere with that same aesthetic will do.
See more of Isabel and Matt's work at: